Chambord Bellini – A wonderful combination of Prosecco and Chambord Liqueur create this light, refreshing, delicious and bubbly elegant sipper. It's also just the cocktail that your New Year's Eve Party needs!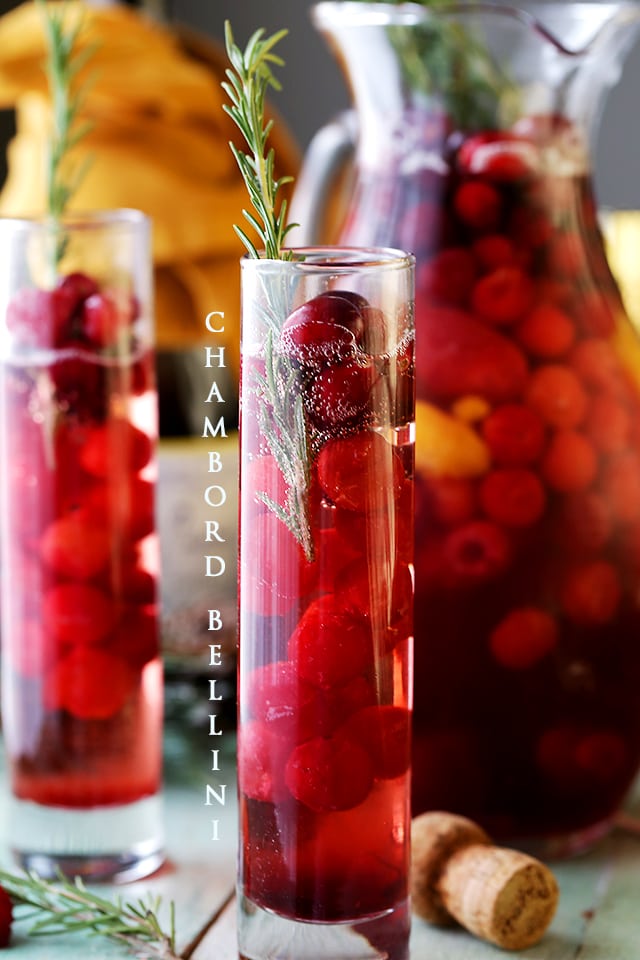 I! LOVE! PROSECCO! and I! LOVE! SWEET! LIQUEUUUUURE! Pretending to say that with a French accent, swallowing my tonsils and all…
Hey Hey, sweet friends! Happy Wednesday! The LAST Wednesday of 2015!! What the whaaaa? AS IF!
…no. seriously? IT really IS the last Wednesday of 2015? HOLY HECK!
ohhhhk. breathe.
You know, I just looked at this photo and I have to say… Could I have made this drink any more Christmasy? lookin'!? I mean, I guess I could have. But I shouldn't have. It should be more New Years-y lookin'. Not Christmasy. Although, I don't celebrate Christmas until January 7th, so this fits in perfectly with my world. 😉
Let's just cut right to it ➡ the main idea here is that you have to get drunk on New Year's Eve. Okay, kidding! You don't have to get drunk, BUT you do need a good, FANCY drink in your hand. Something along the lines of a Chambord Bellini. See how I smoothly worked into that "main" idea? 😉
It's one of my best ideas ever, which isn't really just MY idea since this has been done over and over again – but this one was inspired by my deep affection for Chambord, the sweet and French Black Raspberry Liqueur, and my love for Prosecco. I could down a bottle of Prosecco, instantly. Just sayin'. That's just how good it is.  
Also? If I DID down a bottle, I'd be hospitalized because, only after 1 glass, the room starts to spin. 2 glasses and I can't spell my name. Not even kidding.
But yeah. Combining Prosecco and Chambord is what happens when France and Italy cross paths, right? And I'm neither Italian nor French, so that's that. If we go along those lines, then I should be downing Rakija and Vino all.zee.time. By the way, Rakija is moonshine, and according to my Grandfather, you should have a shot of Rakija daily because it kills all the nasty bacteria in your body. 
But I digress.
So this will, for sure, be making an appearance when it's time to ring in 2016 tomorrow night. Yes. Seriously. 2016.
One more thing? Real quick! When I was in 7th grade, I thought that by 2016 I'd be the editor of a HUGE food magazine and that my office would be located in Paris…
and well… here we are. Not in Paris. But, Indiana will do. Not a food magazine, either, but Diethood is WAY better than the food magazine I had envisioned.  Cheers to that! CLING CLING!!
ENJOY!
CRAVING MORE? SIGN UP FOR THE DIETHOOD NEWSLETTER FOR FRESH NEW RECIPES DELIVERED TO YOUR INBOX!
FOLLOW DIETHOOD ON FACEBOOK, TWITTER, PINTEREST AND INSTAGRAM FOR ALL OF THE LATEST CONTENT, RECIPES AND UPDATES.
Chambord Bellini
Chambord Bellini - A wonderful combination of Prosecco and Chambord Liqueur create this light, refreshing, delicious and bubbly elegant sipper.
Ingredients
chilled pitcher

6

cups

frozen or chilled variety of berries

, cherries, cranberries, etc...

1/2-

bottle

(300 mL) Chambord Liqueur, chilled

1

bottle

(750 mL) Prosecco, chilled

rosemary sprigs
Instructions
Fill pitcher with berries.

Pour Chambord Liqueur over berries.

Slowly pour in the Prosecco.

Garnish with rosemary sprigs.

Pour into champagne glasses.

Serve.
Recipe Notes
WW SmartPoints: 3
Nutrition Facts
Chambord Bellini
Amount Per Serving
Calories 59
% Daily Value*
Fat 0g0%
Cholesterol 0mg0%
Sodium 1mg0%
Potassium 62mg2%
Carbohydrates 14g5%
Protein 0g0%
Vitamin A 55IU1%
Vitamin C 2.9mg4%
Calcium 9mg1%
Iron 0.2mg1%
* Percent Daily Values are based on a 2000 calorie diet.
Want To Save This Recipe?

SIMILAR RECIPES:
SUBSCRIBE TO GET FREE UPDATES & A FREE ECOOKBOOK!
GET AN EMAIL WHEN THERE'S A NEW RECIPE