Caffe Mocha Creme Brulee is a delicious and decadent chocolate custard with notes of espresso and a crispy sugar crust.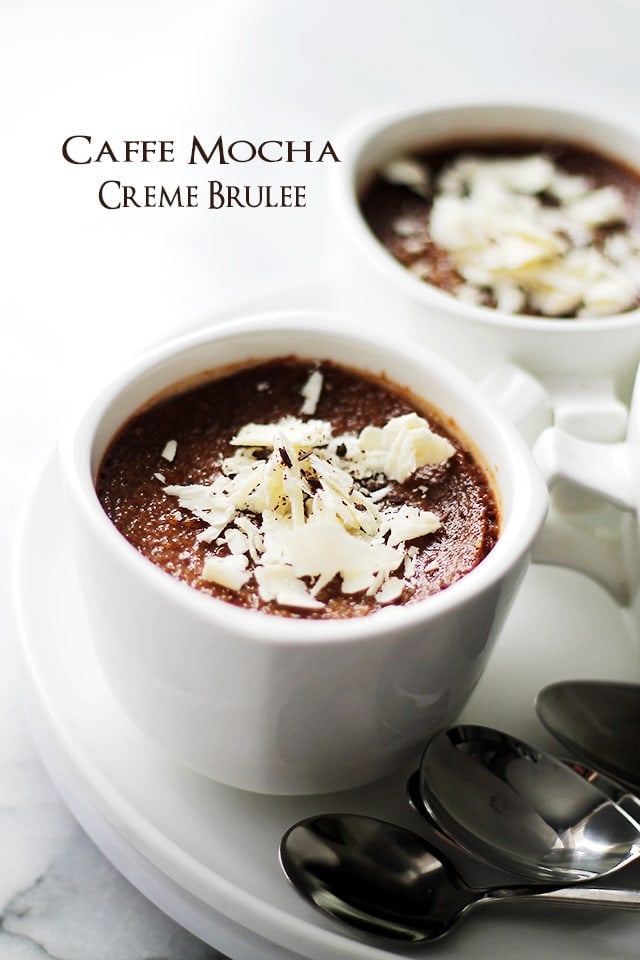 AN EASY CHOCOLATE CREME BRULEE RECIPE
It's like your Starbucks Caffe Mocha, but in dessert form! WHOA!
Because, what makes Creme Brulee a hundred times better than it already IS? CHOCOLATE AND COFFEE!
I have a tendency to go overboard with everything, food especially, and food blogging only exaggerates all of that. I think that's how I got here! I ♥ my job!
First up though, Hi Hey Hi! How's it going? Happy Friday! I'm in the middle of packing for my month long vacay to Macedonia (YAY ME!!!!), and I'm also about to lose IT because packing clothes for the little ones seems to be the most challenging. WHY does a 5 year old know about matching tops, what sandals go with what, two piece bathing suits, and iPads?!? Not.gonna.happen.
In other news.
You guys! OH MY GAWSH! Why Why WHY did I have to follow the lead of my food brain and make THIS Creme Brulee? Can you just imagine the taste? Lawwwwd, it's heavenly.
BUT, it's been way too long since I've made a decadent dessert for you and I. It was time to change that.
So much I love about this right now. So, so much. Starting first and foremost on the list of loves is coffee! Remember that Caramel Coffee-Infused Creme Brulee we made years ago? I have been adding coffee to my brulee since that moment. Chocolate follows. Sometimes, I even throw in some wine.
By the wayz, did you know that Chocolate Day was on July 7th? Had I known, I would have doubled the recipe because, holiday-calories don't exist. Plain and simple!
Sidenote: Look at the spoons in the above photo and waaaaave HIIIII! haha Look at me doin' my thing! 😀 I just noticed that… oh well!
ANYWHO! The thing is, I had a fridge full of egg yolks left over from a cookie recipe that I was trying to work on using only egg whites, and since I could only think of Semifreddo and Creme Brulee for the yolks, I went with both! Stay tuned for the semifreddo!! OH EM GEE! That's all.
So as you can see, I was definitely kinda, sorta forced to make this amazingness. And once I got started, I just lost myself in the process of adding chocolate chips and brewed espresso to the mix. #notsorry
It's sweet, it's creamy and dark, and it's so perfectly simple.
I just want more. Lots more. Who cares about the skinny jeans that I just threw in the suitcase.
I did however use dark chocolate chips. That's healthy-er. Pretty sure though, the heavy cream will do me in. Oh well! ALL that's important for now is that, in a few days, I'm going on vacation! 😀
Speaking of, I gotta go. I gotta finish packing, and I have GOT TO remember deodorant! I always, always, always forget deodorant. AND razors. I know I can buy them there, but still. I don't want to. When I get there, I just want to partaaaay! And shop for clothes, not toiletries, ya know whadda mean?
ENJOY!

Craving more? Sign up for the DIETHOOD Newsletter for fresh new content delivered to your inbox! Follow Diethood on Facebook, Twitter, Pinterest and Instagram for all of the latest recipes and updates.
Caffe Mocha Creme Brulee
Caffe Mocha Creme Brulee is a delicious and decadent chocolate custard with notes of espresso and a crispy sugar crust.
Ingredients
6

egg yolks

, room temperature

1

teaspoon

pure vanilla extract

3

tablespoons

brewed espresso or any other strong coffee

2

cups

heavy cream

1/2-

cup

dark or semi-sweet mini chocolate chips

1/2

cup

sugar

4

to 6 cups boiling water

Topping

raw sugar

white chocolate shavings

, for garnish (optional)
Instructions
Preheat oven to 315.

Place 6 ramekins in a roasting pan that is at least 3 inches deep; set aside.

Whisk together egg yolks, vanilla, and coffee until combined; set aside.

In a saucepan set over medium heat, stir together cream and, mini chocolate chips, and sugar; cook, frequently stirring, until it begins to boil and chocolate is melted.

Remove from heat and slowly add ? of the hot cream mixture into the egg mixture, whisking and adding a few tablespoons at a time until incorporated. Continue to add the remaining cream mixture.

Pour prepared custard mixture into previously prepared ramekins.

Fill roasting pan with boiling water to come halfway up the sides of the ramekins.

Bake for 50 to 60 minutes, or until set.

Remove from oven and place ramekins on a wire rack.

Allow to cool to room temperature; about 1 hour.

Cover and refrigerate for 2 hours.
If you have a kitchen torch, sprinkle about 1 teaspoon of raw sugar over the top of the creme brulee; melt the sugar with the torch and form a crispy top.
Allow the creme brulee to sit for at least 5 minutes before serving.
If you do not have a kitchen torch, remove wrap and sprinkle about 1 teaspoon of raw sugar over the top of the creme brulee.
Turn on the broiler.

Place ramekins on a baking sheet and broil for 2 to 3 minutes, or until sugar is melted and browned.

Let stand few minutes.

Add white chocolate shavings, if using.

Serve cold.
Nutrition
Calories:
479
kcal
|
Carbohydrates:
28
g
|
Protein:
5
g
|
Fat:
38
g
|
Saturated Fat:
24
g
|
Cholesterol:
304
mg
|
Sodium:
55
mg
|
Potassium:
174
mg
|
Fiber:
0
g
|
Sugar:
22
g
|
Vitamin A:
1425
IU
|
Vitamin C:
0.5
mg
|
Calcium:
120
mg
|
Iron:
0.7
mg
|
Net Carbs:
28
g
Nutritional info is an estimate and provided as courtesy. Values may vary according to the ingredients and tools used. Please use your preferred nutritional calculator for more detailed info.
Categories:
SIMILAR RECIPES
DATE AND GINGER CREAM POTS