(Photo courtesy of Bravo)
The 10th Season of Top Chef premiered on November 7th, 2012, with 21 chefs from around the country. They were greeted by their judges, Tom Colicchio, Emeril Lagasse, Hugh Acheson, and Wolfang Puck.
Yes, Padma Lakshmi was there, too.
In Episode 1, each judge tested a group of cheftestants in a real-world challenge at the judges' own restaurant. Their tasks involved working on the line in a restaurant, making a soup in an hour, or preparing a salad in 45 minutes. I did say 45 minutes. For a salad. Wolfgang Puck asked his group to make an omelette in 45 minutes, also. Last time I made an omelette it took me about 10 minutes.
Anthony, Jorel, Stephanie, Tina, Daniel, and Gina were all eliminated. Buh-Bye.
Content and/or other value provided by our partner, Bravo.
In the second episode, veterans CJ, Josie, and Stefan made their appearance and not everyone was happy. (I WAS!) They were also the Quickfire Challenge Judges. The cheftestants had to divide into groups of three and create a dish with shellfish. They are afterall in Seattle – seafood was expected.
All of the groups wanted Geoduck. What's Geoduck you ask? I have no idea. It looked a bit weird. Kristen referred to it as a male's genitalia. She was right. :/
Josh's team was on the bottom with their corn chowder. John, Kuniko, and Sheldon's dish won. At that point, Padma told everyone that the former Top Chef cheftestants, CJ, Josie, and Stefan, were actually going to join the competition! I was so excited at that point. I love watching Stefan and his jerk-ways. While I despise a foul mouth, Stefan's dirty vocabulary doesn't seem to bother me. He says, "F You" as if he was saying Good Morning; it doesn't sound that bad. It's probably the accent – it gets me every time. You should hear my husband speak. 😉
During the Elimination Challenge, the chefs had to make a dish using regional ingredients for Tom Douglas, who is a legendary Seattle chef. The pressure was on, but Kuniko's dish won. It was fish.
The Grey Team lost because they overcooked their fish and Jeffrey was sent home packing.
In Episode 3, the chefs were introduced to Dana Cowin, Editor at Food & Wine, and were tasked with making dumplings for their Quickfire Challenge. Kuniko had issues with timing, Brooke didn't have enough flour, Carla couldn't find white pepper, and Stefan shared photos of himself. With hair.
In the end, Josie, Stefan, and Micah won.
For the Thanksgiving Challenge the chefs were broken up into two teams and they had to cook a Thanksgiving meal to benefit FareStart. However, the meals had to be inspired by the judges, Tom and Emeril. I thought it was fitting that the winning dish was the Turkey, prepared by Tom's team. It must have been all that butter placed under the turkey's skin that did it. That happens to be my trick to a juicy turkey as well.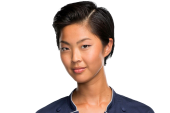 ****Content and/or other value provided by our partner, Bravo.****
Now, I can go on and on, and do a recap of every episode, but you will probably decide to look away. We don't want that.
Allow me to share some memorable moments:
Stefan prepared frozen fish. On TOP CHEF! John was a little ticked off, and he decided to whine to Top Chef Judge, Tom. "Whiny little B*&ch!", was Stefan's reaction. (LOL!) This was the moment that had me hooked on Top Chef for the next 100 weeks.
Then there's the episode with the knives. Um, I was a little traumatized. For the final round the chefs had to break down two rabbits. Josh says it's ilke breaking down a cat. WHAT?! Ewwww!
To add, I can still hear Carla looking for white pepper. She is always looking for white pepper.
Somewhere around here we also learned that the beautiful Kristen is going to use the $10,000.00 dollars to go and find her birth mother in Korea. This is when I thought she had to win the entire thing!
Then she was sent home. :/
Another memorable moment was when cheftestant Josh got the call that the wifey was on her way to deliver their baby. I thought he should have gone home to be with her, but he decided to stay. And he lost. That was Karma.
Content and/or other value provided by our partner, Bravo.
But then there was Brooke. Oh sweet Brooke. Love her! After Kristen was sent packing, I started to warm up to Brooke. Now I really want her to win. Especially after her traumatizing experience in Alaska. She had to fly in a helicopter and she's afraid of heights, closed spaces, and whatever else she named off. She got through it and I was proud!
In a nutshell: Brooke is going to win! 😉
I loved all her dishes, and I can't stop thinking about making her chicken and quail.
But I am excited that Kristen is back in the game! I can't wait until the Finale which is on Wednesday, February 27th at 10/9 Central.