(photo courtesy of Bravo)
Hi, again! Just wanted to tell you that I am a #TopChef A-Lister!
I am also a Bravo TV junkie.
I love Andy Cohen; he is my best friend. He may not know that, but that's okay. Padma, Tom, and Gail are also my imaginary friends. I mean, best friends!
Last night I glued myself to Bravo, just as I do every night to watch either a Real Housewife fight, a decorator's disaster, or a Quickfire Challenge.
My little 6-month old baby in one hand, remote control in the other – told ya life is good!

****Content and/or other value provided by our partner, Bravo.****
Top Chef was really entertaining last night. I especially enjoyed the Quickfire Challenge. The Chefs were given an ingredient wrapped in foil (Reynolds Wrap marketing :-D) and they didn't know what was in the foil until after they opened it.
Then, the elimination challenge involved contestants fighting over baskets of berries. There was a variety of berries, and I would have fought to get my hands on some gooseberries! Love those things!
In between all that there was the usual fighting, bickering, cursing… do all chefs curse as much?! The sound, Bleep Bleep Bleeeeeeep, happened one too many times last night.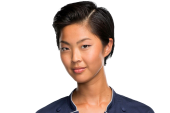 ****Content and/or other value provided by our partner, Bravo.****
Kristen, sweet Kristen, won both challenges, and I think that she truly deserved it because both dishes were incredibly creative. A Sponge Cake baked in aluminum foil and a Matcha Goat Milk Custard with olive oil-macerated Tayberries. That Matcha Goat Milk Custard sounds ah.mazing. Here's the recipe… yummo!
Finally, Danyele packed her knives and went bye-bye-bye <—-gotta sing it like N Sync because that's what I did when they told her to pack her knives and go. On a side note, I should start doing videos for my blog so you can see the weirdo that I can be. 😀
Now about that giveaway!
Bravo has been so kind to offer one lucky Diethood reader a 12-month subscription to Food & Wine Magazine!!
This giveaway is open to US Residents only. This giveaway will close on December 25th, 2012, at 11:59 pm CST. A winner will be randomly selected on December 26th, 2012.
Required Entry: Please share your favorite Holiday Recipe in the comments section below.
For extra entries: Be sure to leave a separate comment for each additional entry so I know you did it:
Follow Diethood on Pinterest
Follow Diethood on Facebook
Follow Diethood on Twitter
Follow Diethood on Instagram
Subscribe to Diethood via Email | Enter your Email in the sidebar right underneath my About Me Photo
* If you already follow me on Facebook, Twitter, or Pinterest, and already subscribe to Diethood, leave a comment telling me so; this also counts as entries.
This Giveaway is now CLOSED.
And the winner is: AMY! CONGRATULATIONS!!