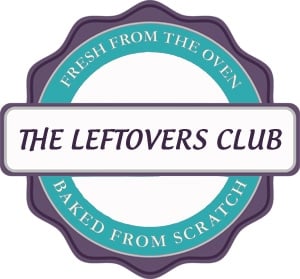 French Club – Check
Student Council – Check
FHA (Future Homemakers of America) (LOL) – Check
Macedonian Youth Club – Check
Bundtamonth – Check
French Fridays – Check
Do you see where I'm going with this? Need I go on? 'Cause I can!
I admit. I like clubs. Including night clubs. Those are my favorite.
Food clubs are my second favorite. That's why I joined another club – The Leftovers Club!
The very talented Jen from Savory Simple created The Leftovers Club after running into a small problem; Too.Many.Leftovers.
As a food blogger, you can only imagine the amount of food that I have to tuck away into freezers, refrigerator(s), deep freezers… I could literally feed an army. If you ever hear about a shortage of food, run to the closest food blogger that you can find. We have food to last for weeks!
The concept of the club is this: on the first Thursday of each month we all share a recipe with a good shelf life (muffins, cookies, granola bars, etc…) and we exchange the leftovers with another member of the club.
For this month I am sharing a Coconut Lime Cake that I made for another club. See, this is where joining too many clubs might be a problem. I baked this cake twice, but I didn't mean to use it in a post two times in the same day. Sigh… You can read all about my mistake here, on my #Bundtamonth post. My sincerest apologies, Jen. I promise to be way better next month. Way.
If you are a food blogger with a lot of leftovers, you should really consider joining this club. Do you often visit other blogs and wish you could have what they're having? This club is a wonderful way to connect with others and share your baked goods with like-minded friends.
Sounds like fun, right!? Visit The Leftovers Club to learn more and join us!
Please visit my post for the Coconut Lime Cake recipe.
More recipes from The Leftovers Club
Damn Delicious – Blueberry Lemon Bars
ENJOY!