This is a Sponsored post written by me on behalf of P.F. Chang's for SocialSpark. All opinions are 100% mine.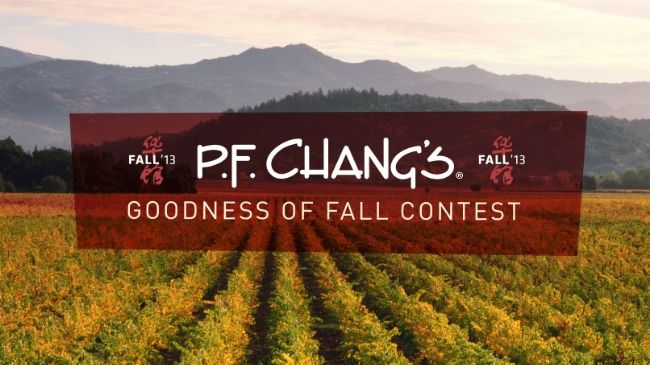 You know, working in the big city with the big job definitely has its perks.
I used to work in downtown Chicago, near some of the best restaurants in the world. Yes, in the world. I have been to many places on this globe and I can definitely tell you that Chicago has some amazing options. One of them is most definitely P.F. Chang's.
I worked only steps away from one of their restaurants and most of my company "meetings" were held at P.F. Chang's. Believe me when I say that we did anything but talk about our company's finances and our goals… We always, always spoke about the beautiful atmosphere and about P.F. Chang's wonderful food.
Just recently P.F. Chang's unveiled their new Fall Seasonal Menu, featuring fresh Fall ingredients including, get this, Pumpkin Dessert Wontons!!
And how about the Harvest Vegetable Quinoa "Fried Rice"!?! That dish needs to meet up with me, stat!
The Miso Chicken and the Citrus Mustard Prawns sound just as incredible.
Looks like I'll need a "meeting" real soon. Hopefully we will finish it off with a couple of their Apple Martinis!
To celebrate the new menu, P.F. Chang's is launching the Goodness of Fall Contest, challenging home chefs to create 3 original Fall recipes using 3 ingredients featured in P.F. Chang's Fall Seasonal Menu. The top 5 recipes will then be submitted to a panel of judges including Cofounder of P.F. Chang's, Philip Chiang, Head Development Chef at P.F. Chang's, Yuji Iwasa, Director of Beverage at P.F. Chang's, Mary Melton, and prominent blogger partner, Jennifer Chong.
Prizes include a daily $50.00 P.F. Chang's gift card winner, with the grand prize winner receiving a two-night trip to Napa in Spring of 2014, including an exclusive visit to the guest house at a Napa Valley vineyaard where judges Philip Chiang and Yuji Iwasa will be cooking some oftheir favorite dishes! To add, Director of Beverage, Mary Melton, will also be there guiding the winners while wine-tasting. This is one amazing getaway!
Participants can submit their recipes and 3 to 5 imagest of said recipe to the P.F. Chang's Facebook Page, where you can also click on the "Special Offer" link and receive a printable $10.00 off $40.00 special offer! Also, all instructions for the contest can be found on the same page.
Lastly, speaking from my personal experience, I highly recommend and encourage you to go and visit your nearest P.F. Chang's restaurant to experience their new Fall Seasonal Menu. Trust me, you will not be disappointed.
I am heading there as soon as possible because there is no way I am going to let this beautiful Harvest Vegetable Quinoa Salad "Fried Rice" slip away from me!
What menu item are you most excited to try?
Connect with P.F. Chang's:
Follow P.F. Chang's on Pinterest