Ten Chicken Dinners Under 500 Calories – A compilation of my favorite Chicken Recipes with under 500 calories per serving.
A roundup!? Say WHAT?! Yes, a roundup. It's a good one! Trust.
Hey Hi! Happy Sunday!! How goes it, friends? I've had quite the week… I'm glad it's Sunday. I plan to vegetate. If you need me, I'll be on the couch playing Solitaire on my phone.
Yep, Solitaire. I'm a 90s gal. 😉
So, this is one of those posts where I reflect on all the delicious chicken dinners I have made for you. This is also, like, the 2nd roundup in 2 months. Like, so unlike me…
But wisdom says; it's cold, make good, good-for-you, comfort food and share it with your readers.
If you've been around here for a while, you know I go nuts for chicken dinners. I highly doubt that I will ever eat anything besides chicken and salads for the rest of my life. Cake, too. I mean, let's not kid ourselves…
Throw in some pasta. Rice, as well. Plus burgers.
…Focus!
Ahem. Thus, in honor of my love for Chicken Dinners and my love for counting calories (NOT!), here are ten of my current favorite Ten Chicken Dinners Under 500 Calories.
Click on the links to get to the recipes:
Basil-Feta Sauce Chicken – Flavorful and tangy sauce made with basil, garlic and feta cheese served over deliciously juicy chicken.
Pan-Seared Chicken Breasts with Sun Dried Tomatoes – Quick, easy and delicious pan-seared chicken with sun dried tomatoes and a flavorful sauce.
Saucy Chicken – Super quick, flavorful pan-fried chicken, combined with tender veggies and a delicious pasta sauce.
Hawaiian Baked Chicken – Marinaded in a garlicky-pineapple juice mixture, this is the most flavorful chicken you will ever make!
Light and Creamy Chicken Tortilla Soup – This hearty Chicken Tortilla Soup is filled with shredded chicken, tomatoes, corn and creamy refried beans. All the creamy comfort without the cream!
Cheesy Chicken Orzo – Super tasty, cheesy dinner made with chicken, cheddar cheese and orzo.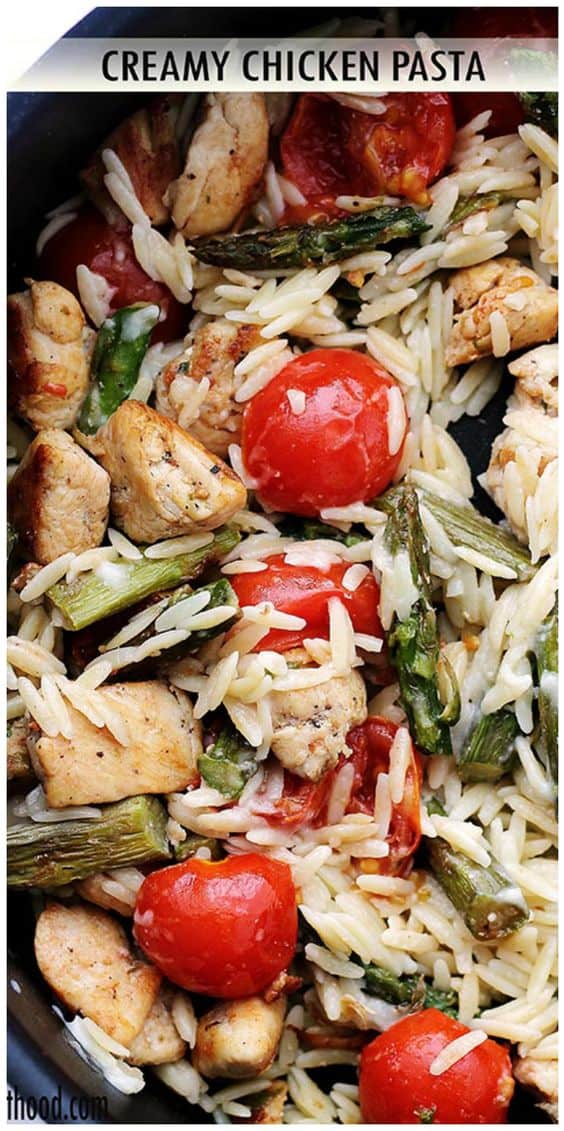 Creamy Chicken Pasta – Rich and delicious meal loaded with chicken, orzo, asparagus, and tomatoes tossed in a creamy sauce that pulls it all together.
Garlic Sauce Chicken – Pan-Seared Chicken Thighs prepared with an amazing garlic sauce.
Wild Rice and Kale Chicken Casserole – Hearty and delicious casserole made with chicken, wild rice, kale and a good dose of cheese.
One-Pot Lemon Chicken and Potatoes – This super easy, amazingly flavored dish with chicken and potatoes is a complete meal made all in one pot and in just 30-minutes!
Craving more? Sign up for the DIETHOOD Newsletter for a fresh serving of content delivered to your inbox! Follow Diethood on Facebook, Twitter, Pinterest and Instagram for all of the latest recipes and updates.
ENJOY! XO