This Skinny Chicken Alfredo is a guilt-free option that doesn't compromise on taste. The lighter Alfredo sauce, combined with the wholesome whole wheat pasta and tender chicken, creates a satisfying and flavorful meal.
Skinny Chicken Alfredo – Creamy and Flavorful Pasta Dinner
Introducing our most delicious Skinny Chicken Fettuccine Alfredo! Indulge in a creamy and delicious dish that is lightened up without sacrificing flavor. This recipe features baked chicken breasts, perfectly cooked whole wheat fettuccine pasta, and a lighter, yet still flavorful, Alfredo sauce.
Enjoy this classic Italian comfort food dish that combines the perfect balance of taste and nutrition. It's a symphony of flavors and textures that will transport your taste buds to Rome. This creamy pasta is ideal for both special occasions and everyday meals. It is an iconic dish that will always impress whether you entertain guests or treat yourself to a well-deserved dinner.
Back in the day, when my bod didn't recognize calories, I would go into Olive Garden and inhale a large plate of their Chicken Fettuccine Alfredo. Then I'd sop up the remaining of the sauce with my breadsticks – I made sure to lick that plate clean. Now, I can't even smell that beautiful plate without gaining a few elbees. Totally unfair.
Thus, what started out as an innocent effort to make a lighter sauce, turned into a full grown, must-have, can't live without Alfredo Sauce.
No, really, I use it in a LOT of recipes. Case in point: Spinach and Artichoke Pasta Alfredo Casserole, Lightened Up Shrimp Fettuccine Alfredo, or this Creamy Spinach Fettuccine. 🤷‍♀️
How To Make Lighter Chicken Alfredo
To create this delightful dish, start by cooking 3 to 4 chicken breasts, ensuring they are cooked to juicy perfection. Use my Oven Baked Chicken Breasts recipe for the BEST-est and juiciest chicken.
Meanwhile, cook 8 ounces of whole wheat fettuccine pasta according to package instructions until al dente.
In a saucepan, heat olive oil and sauté the minced garlic until fragrant. Add the flour to create a roux, and then gradually whisk in 1 cup of chicken broth. Allow the mixture to thicken, and then stir in 1/2 cup of grated Parmesan cheese until smooth and creamy.
Next, add nonfat plain yogurt (or substitute with 1% milk) to the sauce, along with a sprinkle of dried parsley. Season with salt and pepper to taste, adjusting the seasoning as desired.
Now, it's time to bring everything together. Toss the cooked fettuccine pasta in the creamy Alfredo sauce until well coated. Slice the prepared chicken breasts and gently fold them into the pasta. Serve.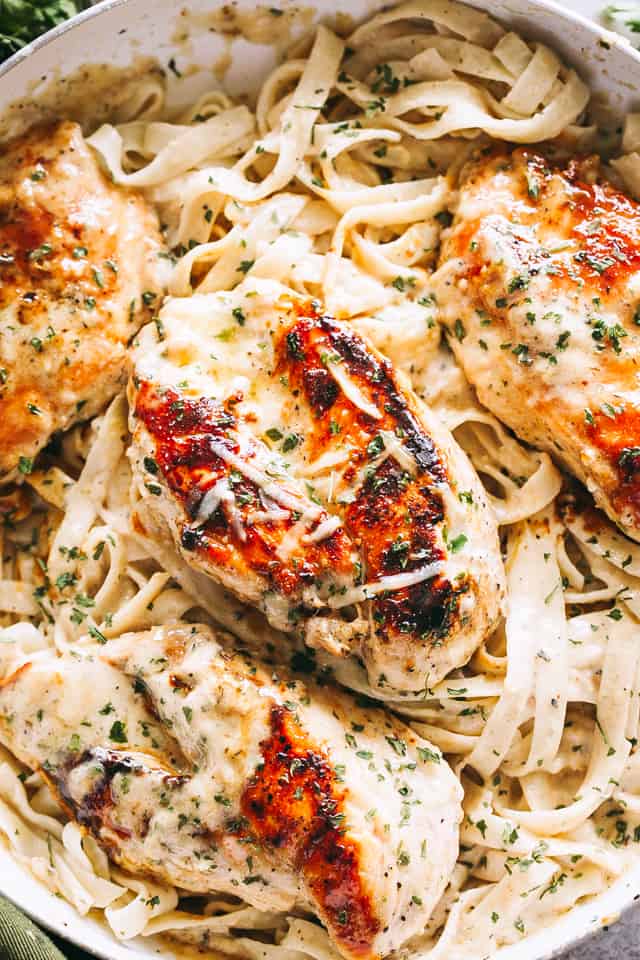 Did you know there are about 500+ calories per serving in a good, old-fashioned Alfredo sauce? That's JUST the sauce! Eeek! I can't buh-lieve I could eat that and not gain an ounce back in the day. 🙄
Lucky for you and me, this Alfredo sauce recipe is less than half of that! In fact, this entire meal is a little over 480 calories per serving. We ain't callin' it skinnier for nothing. Treat yourself to this satisfying and flavorful meal that will leave you wanting more.
Tips and Substitutions
Don't overcook the pasta: Cook the pasta until it is al dente, which means it is cooked but still firm to the bite.
Cook the chicken properly: Ensure the chicken breasts are cooked to the proper internal temperature of 165°F for optimal safety and tenderness.
Add vegetables: Incorporate sautéed or roasted vegetables like broccoli, bell peppers, mushrooms, or spinach to add color, texture, and extra nutrients.
Substitute chicken with other proteins like shrimp, grilled steak strips, or even cooked tofu for a different flavor profile.
Use different pasta shapes: While Fettuccine is the traditional choice, feel free to experiment with other pasta shapes like penne, bowtie, or linguine to change up the dish's appearance and texture.
Serving Suggestions
When it comes to complementing the creamy and indulgent flavors of Chicken Alfredo, a variety of side dishes can elevate the meal even further. A fresh and vibrant Green Goddess Salad provides a refreshing contrast to the rich sauce.
Steamed or roasted vegetables, such as broccoli, asparagus, or zucchini, add a nutritious element and add a pop of color to the plate. For a heartier option, Keto Garlic Breadsticks or warm, crusty rolls are perfect for sopping up any extra sauce.
More Fettuccine Recipes
ENJOY!
Skinny Chicken Alfredo
Creamy, delicious pasta and chicken tossed in a lighter but flavorful Alfredo Sauce.
Ingredients
3 to 4

cooked chicken breasts

8

ounces

whole wheat fettuccine pasta

3

tablespoons

olive oil

2

cloves

garlic,

minced

3

tablespoons

all-purpose flour

½

cup

grated parmesan cheese

½

cup

nonfat plain yogurt,

(you can also use 1% milk in place of the yogurt)

½

teaspoon

dried parsley

salt and fresh ground black pepper,

to taste

fresh basil ribbons,

for garnish
Instructions
Cook pasta according to the directions on the box; set aside.

Heat olive oil in a skillet over medium-high heat.

Add garlic and cook for 1 minute or until fragrant.

Stir in flour; stir until combined.

Slowly whisk in chicken broth.

Cook and stir until mixture boils and thickens; remove from heat.

Stir in parmesan cheese; stir until melted.

Whisk in the yogurt; whisk until combined.

Season with dried parsley, salt and pepper.

Sauce will continue to thicken as it stands. If sauce is too thick, add a little more milk.

Pour sauce over cooked fettuccine; mix until combined.

Transfer to plates and top with previously prepared chicken.

Garnish with basil ribbons and serve.
Notes
Fettuccine Pasta: Cook the pasta until it is al dente, which means it is cooked but still firm to the bite. This helps to maintain a pleasing texture when combined with the sauce and chicken.
Before draining the pasta, reserve about 1/2 cup of the cooking water; this starchy water can be used to adjust the consistency of the sauce if needed.
Add sauteed or roasted vegetables for extra nutrients. Diced bell peppers, sliced mushrooms, or baby spinach are great additions.
If you want something other than chicken, you can use shrimp, steak strips, or cooked Italian sausage.
Feel free to use other pasta shapes like penne, spaghetti, or linguine. You can also try it with my favorite 👉 low-carb pasta 👈.
Enhance the flavor and add herbs such as dried oregano, or spices like red pepper flakes.
Nutrition
Calories:
482
kcal
|
Carbohydrates:
50
g
|
Protein:
33
g
|
Fat:
17
g
|
Saturated Fat:
4
g
|
Cholesterol:
65
mg
|
Sodium:
550
mg
|
Potassium:
546
mg
|
Sugar:
2
g
|
Vitamin A:
135
IU
|
Vitamin C:
1.7
mg
|
Calcium:
229
mg
|
Iron:
2.9
mg
|
Net Carbs:
50
g
Nutritional info is an estimate and provided as courtesy. Values may vary according to the ingredients and tools used. Please use your preferred nutritional calculator for more detailed info.
Categories: