This started off as a typical morning; feed baby, start coffee, turn on laptop, open up blog, and boom! Not so typical anymore. My laptop is about to go to "sleep" and it won't wake-up until I can find/buy another charging adapter. Guess what? Best Buy doesn't carry the adapter… I have to order it from Sony and wait for it to arrive sometime this week.
Should I tell you what happened to the adapter? My three-year old broke it. She kicked my laptop off the couch, and the thingamajigger that sits at the end of the charging adapter and attaches to the computer broke off. It was an accident, of course.
My fault for leaving my laptop there, unattended.
Now it's either, steal my husband's laptop or use the touchpad. I don't know about you, but I find it hard to do actual work on the touchpad. I just use that to browse food blogs and Pinterest while trying to put the baby to sleep at night. Priorities.

But, we're here to talk about Brownies, and not my technical difficulties.
Do you know how good these brownies were? You can imagine; there's chocolate, there's walnuts, marshmallows, butterscotch chips… The best thing is the texture. These brownies are gooey, chewy, crunchy, fudgy…oh how I wish I had a pan of them right about now.
Then there's the better part – I made them with a Brownie mix! Chaching!
A couple of friends were coming over, I felt pressed for time, so I went to the local grocer to pick up some fruit and then a light bulb went off – Baking aisle here I come! Once I stepped in there, the Pillsbury box just took me in, it was like a magnetic attraction, and I had to have that box.
The only thing left to do was come up with a topping because I don't like bare brownies. It can be powdered sugar on top, as long as they are not bare. And walnuts in a brownie are almost always a must for me. Thus a quick scan of my pantry led me to the walnuts, then to the marshmallows, and finally the idea of rocky road started to come together.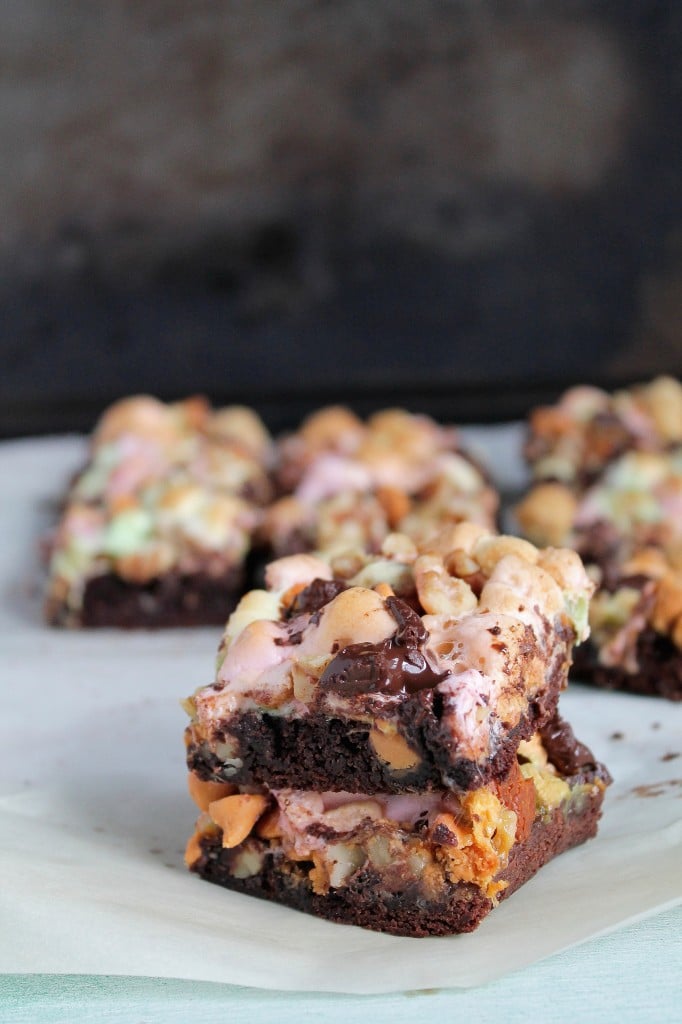 Just to note, you can use as much or as little marshmallows as you want, and make sure that your topping is ready to be added to the brownies once the brownies have been in the oven for 25 minutes. ENJOY!
Rocky Road Fudge Brownies
Ingredients
1

box Chocolate Fudge Brownie Mix

1/2

cup

butterscotch chips

, divided

2

cups

colored miniature marshmallows

1/2

cup

roughly chopped walnuts

1/4

cup

dark chocolate chips
Instructions
Preheat oven to 350.

Prepare brownies following the directions on the box.

Grease an 8x8 pan and line with parchment paper; pour in the batter.

Bake for 25 minutes.
In the meantime prepare your topping.
Take out the brownies and layer with half of the butterscotch chips.

Add the marshmallows, walnuts, the rest of the butterscotch chips, and the dark chocolate chips.

Put the pan back in the oven for 10 to 12 minutes, or until the marshmallows have started to melt.

Take the pan out of the oven and completely cool before cutting.
Nutrition
Calories:
89
kcal
|
Carbohydrates:
14
g
|
Protein:
0
g
|
Fat:
3
g
|
Saturated Fat:
1
g
|
Cholesterol:
0
mg
|
Sodium:
31
mg
|
Potassium:
33
mg
|
Fiber:
0
g
|
Sugar:
10
g
|
Vitamin A:
5
IU
|
Calcium:
12
mg
|
Iron:
0.2
mg
|
Net Carbs:
14
g
Nutritional info is an estimate and provided as courtesy. Values may vary according to the ingredients and tools used. Please use your preferred nutritional calculator for more detailed info.