A recap of Diethood's October Recipes and a Giveaway for $100 Target Gift Card!
Hi, friends! Happy Sunday!
Have I ever told you about my love for red barns? I'm a sucker for anything old, traditional and rustic. I found this little shed right near my daughter's preschool and I just had to snap a photo of it and share it with you. Me thinks it's beautiful!
Me also thinks that maybe I could have waited until next Sunday to do my lil' recipes recap, but I'm impatient… I have got to bring you up to date with my new house.
Before I go on, I must say I am surprised with myself. I decided to get all diy-ey and crafty with the girl's bedroom sets. I took a plain, light brown bedroom set and turned it into this charming beauty! I made my own chalk paint and just went at it. It looks completely different and so girly. LOVES it!
Things are definitely starting to come together. We only have few minor things to wrap up and then we can start moving in! What's important is that my kitchen is pretty much done! We still have to add the hardware… the hardware that took us forever to decide on. And crown molding.
But, we did most of the work all on our own with a lot of help from my dad … I mean A LOT … and a couple of our closest friends. We are so grateful and looking forward to lending them a hand any time they need it!
Or I can just cook for them since all I did was quality control… and a lot of whining. "You're still not done?!" "Ewwww, is that how you're going to leave that wall?" "Oh my, why is it so dirty in here?!" I'm sure they are going to be SO happy for the fact that they won't have to listen to me anymore. I think my own dad is ready to tell me to shut up!
As soon as we move in, I will have more photos to share and more things to say. Because I don't ever say enough… I know. I can talk your ears off.
Anywho! Onto the recipes! The sooner I share the recap, the sooner that you can scroll down and enter to win a $100 Target Gift Card!!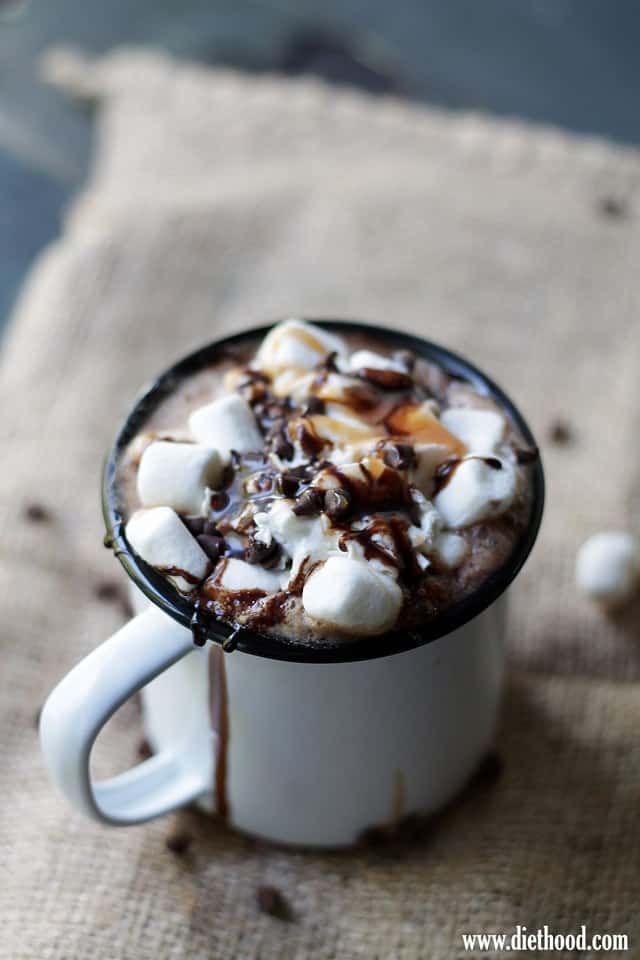 Spicy Hot Chocolate Mocha – Coffee, cocoa, cinnamon and nutmeg come together in this delicious Spicy Hot Chocolate Mocha drink.
Chicken Tortilla Soup – This hearty Chicken Tortilla Soup is super flavorful, filled with delicious chicken, tomatoes, peppers, black beans and garnished with crispy tortilla chips and avocado.
Apple Rings – A quick and delicious snack of sliced apple rings dipped in a yogurt batter, fried, and topped with cinnamon-sugar
Loaded Baked Potato Casserole – Everyone's favorite Loaded Baked Potatoes as a creamy and cheesy casserole made with potatoes, cheese and bacon!
Cheez-It Rolo Rice Krispies Treats – Your favorite Rice Krispies Treats combined with Cheez-It Crackers and Rolo Chocolate Caramels.
Pumpkin Pie Cinnamon Rolls – Cinnamon Rolls in under one hour made with refrigerated dough, a delicious pumpkin filling, and an incredible pumpkin pie spice cream cheese frosting!
Peanut Butter Chocolate Chip Cookie Dough Balls – The amazing taste of chocolate chip cookie dough in the form of delicious, no-bake Peanut Butter Chocolate Chip Cookie Dough Balls.
Pecan Sticky Buns – Warm, rich, delicious bite-size Pecan Sticky Buns filled with brown sugar and topped with pecans.
Bacon and Eggs Breakfast Bake – Warm and delicious one-dish breakfast bake with eggs, bacon, sausage and tomatoes.
Roasted Butternut Squash Lasagna – The combination of sweet roasted squash, creamy bechamel sauce and fresh herbs result in a flavorful and delicious Roasted Butternut Squash Lasagna.
Chocolate Pumpkin Peanut Butter Cups – Mini Chocolate Cups filled with a delicious, sweet, spicy mixture of Peanut Butter and Pumpkin.
Apple and Cheddar Cheese Soup – Cheesy, creamy and delicious Apple and Cheddar Cheese Soup made with tart apples and shredded cheddar cheese.
Welcome to the A Night Owl October Sponsor Giveaway!
Today the sponsors and friends of A Night Owl are joining up to bring you an amazing $100 Target Gift Card Giveaway! And we all KNOW you love Target, so what are you waiting for? Enter today via the Rafflecopter form below!
Open in the USA and Canada.
Ends at 11:59pm EST on Sunday, November 3rd, 2013.
TERMS & CONDITIONS: This Target Gift Card Giveaway is open to US and Canadian residents ages 18 and over and ends at 11:59pm EST on November 3rd, 2013. By entering you give the right to use your name and likeness. Number of entries received determines the odds of winning. Approximate retail value is $100.00. One winner will be selected. This is a giveaway sponsored as a group buy, which means the bloggers pooled their money together to purchase this product for you. All liabilities and responsibilities with product is directly responsible by Target. Winner will drawn by random.org from all verified entries, contacted by email provided, and announced on this page at the end of the contest. Winner has 48 hours to respond or prize will be redrawn. Entrant is responsible for the email address they provide, whether through typing it directly or through the Facebook entry method. A Night Owl is not responsible for lost or misdirected emails. All prizes will be awarded. No prize substitutions allowed. This promotion is in no way sponsored, endorsed, administered by, or associated with Facebook and we hereby release Facebook of any liability. Information is provided to A Night Owl, not to Facebook and your information is never sold or shared. Facebook and Target are not a sponsor of this giveaway. Prize is mailed or emailed directly by Kimberly Sneed of A Night Owl and requires confirmation of delivery. Protected tweets do not count as an entry method for tweeting. Tweets must come from a public account. Bloggers in this group giveaway and their immediate family members in their household cannot enter or win the giveaway. No purchase necessary. Void where prohibited by law.