A recap of January's Recipes on Diethood.
It's been TOO long since you and I got to sit back, relax, and chat for a bit. I thought we should remedy that with a little one-on-one, and a recap of this month's recipes on Diethood. AND! At the end of it all, you get to enter my monthly Target Gift Card Giveaway! YAAAAY!
Did I tell you I moved into my new house? Yes, yes, we did! FINALLY!
Oh! And speaking of the house… the only thing that I've had a chance to see outside of my new windows up there in the first photo is that lovely scenery. Except, it's SO! not lovely. That's not fog, or some weird photo filter – that's snow. Lots of it!
I want sun. I want warm weather.
I just want to leave the house! I think I am suffering from cabin fever. It's been, like, forever since we went somewhere. I can hardly wait for this polar vortex to leave us alone.
On the bright side, it wasn't this cold on NYE, so the hubby and I got to enjoy a night out with a few of our friends. We had a BLAST! I hope the rest of 2014 is as good as that night was. So far, it's been GREAT!
SAY CHEEEEEESE!
Last week I went to run some errands, and when I got to my first stop, I realized that I forgot my phone. My PHONE! That's like forgetting my head! That phone is my every.thing. I want to say that it was the best thing to happen to me, but that would be a lie. I could not wait to get home to it. How in the world did we do life before mobile phones?! And internet?! How did that time even exist?  Anyway – I'm definitely addicted to my phone. And the internet.
Also? Any idea who is going to the Super Bowl?! Fingers crossed, it's not the Packers. 😉 Since there's no Bears in it, I just tuned out.
And you know what? In case you missed it, I shared a couple of pretty awesome Super Bowl-friendly appetizers these past couple of weeks. I adooooore my Garlicky Cheesy Crispy Potato Skins! You also have GOT TO try this Spinach and Artichoke Dip in Parmesan Cups – it's amazeballs!
Then again, what could be bad about a creamy and cheesy dip?!?
Speaking of cake! YUMMO!!
Black Magic Chocolate Cake – Moist, rich, and delicious dark chocolate cake, perfect for any occasion!
Pomegranate Yogurt Smoothie – Delicious, quick and healthy Pomegranate Yogurt Smoothie made with Pomegranate juice, yogurt, and sweetened with honey.
Cream of Broccoli and Potato Soup – Thick and creamy Broccoli and Potato Soup loaded with broccoli, potatoes, and a variety of veggies.
Avocado and Feta Cheese Orzo Salad – Bright, simple, and delicious appetizer salad with Avocados, Feta Cheese and Orzo.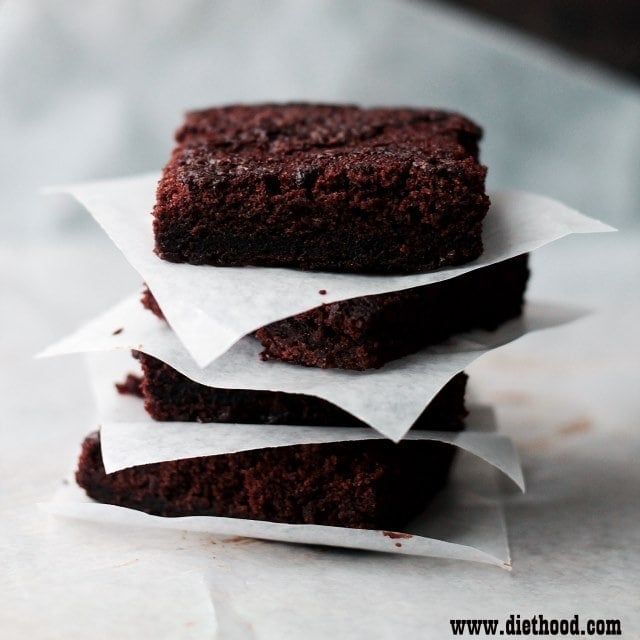 Skinny Brownies – These delicious, moist, fudgy Skinny Brownies are under 140 calories per serving, and are made with just a Brownie Mix and Sprite!
Blueberry Scones & Blueberry Cream Cheese Frosting – Light, fluffy, homemade Blueberry Scones, topped with turbinado sugar and dipped in a creamy, rich and sweet Blueberry Cream Cheese Frosting.
Loaded Potato Pinwheels – Delicious and flaky puffs made with Pillsbury Crescent Dinner Rolls and stuffed with a potatoes, bacon, and cheese mixture.
Strawberry Coconut Oatmeal Crunch Pie – This amazing, sweet, yet healthy Strawberry Coconut Oatmeal Crunch Pie combines a crust made of shredded coconut, quick oats and cereal flakes, topped with a silky strawberry sauce and sliced, fresh strawberries.
Garlicky and Cheesy Crispy Potato Skins topped with a delicious mixture of potatoes, three cheeses, sour cream, crushed croutons and green onions.
Authentic Irish Coffee – A delicious and warm Authentic Irish Coffee made with whiskey, coffee, and heavy cream.
Savory Feta Cheese French Toast – Soaked in a custard blend with crumbled feta cheese and fresh thyme, this Savory Feta Cheese French Toast will quickly become your family's favorite!
Apple Strudel Cake – This beautiful Apple Strudel Cake is a fun take on the classic Apple Strudel dessert, filled with a deliciously spiced apple cranberry filling.
Strawberry Cream Cheese Pastries – Soft, flaky and delicious cream cheese pastries filled with a sweet cream cheese mixture and strawberry jam.
Spinach and Artichoke Dip Parmesan Cups – Creamy, cheesy, spicy Spinach and Artichoke Dip served in delicious, homemade Parmesan Cups.
Thank you, friends, for always being here!!
I hope you enjoyed the recipes as much as we did. February is going to be just as delicious!
P.S. Don't forget to scroll down and enter to win a $100 Target Gift Card!!
P.S.S. Enjoy the rest of your Sunday!
Welcome to the A Night Owl January Sponsor Giveaway!
Just in time for Valentines shopping! Today the sponsors and friends of A Night Owl are joining up to bring you an amazing $100 Target Gift Card Giveaway! And we all KNOW you love Target, so what are you waiting for? Enter today via the Rafflecopter form below!
Open in the USA and Canada.
Ends at 11:59pm EST on Sunday, February 2nd, 2013.
TERMS & CONDITIONS: this giveaway is open to US and Canadian residents ages 18 and over and ends at 11:59pm EST on February 2nd, 2013. By entering you give the right to use your name and likeness. Number of entries received determines the odds of winning. Approximate retail value is $100.00. One winner will be selected. This is a giveaway sponsored as a group buy, which means the bloggers pooled their money together to purchase this product for you. All liabilities and responsibilities with product is directly responsible by Target. Winner will drawn by random.org from all verified entries, contacted by email provided, and announced on this page at the end of the contest. Winner has 48 hours to respond or prize will be redrawn. Entrant is responsible for the email address they provide, whether through typing it directly or through the Facebook entry method. A Night Owl is not responsible for lost or misdirected emails. All prizes will be awarded. No prize substitutions allowed. This promotion is in no way sponsored, endorsed, administered by, or associated with Facebook and we hereby release Facebook of any liability. Information is provided to A Night Owl, not to Facebook and your information is never sold or shared. Facebook and Target are not a sponsor of this giveaway. Prize is mailed or emailed directly by Kimberly Sneed of A Night Owl and requires confirmation of delivery. Protected tweets do not count as an entry method for tweeting. Tweets must come from a public account. Bloggers in this group giveaway and their immediate family members in their household cannot enter or win the giveaway. No purchase necessary. Void where prohibited by law.