Best of 2014: Top 10 Reader Favorite Recipes – A collection of 2014's most visited recipes on Diethood.
Friends! Happy Christmas! I hope your bellies are satisfied, your hearts are warm and souls are full!
Buuuuut, are you aware that 2014 is about to go bye-bye?! Is that insane or what?
This means that the 90s were, like, a long time ago! Like, kids born in 2000 are in High School!! Caaaarrrrr-azy!
Let's not think about how time flies and let's talk about what we do best; food!
Recently, I went into my Google Analytics – that's the thingamajigger that tells me what you all like, who is visiting me, how many are visiting me, how you found me, etc… – and according to Mr. Google's Analytics, the most popular recipes (in line with the most pageviews), are as follows:
#1. Pumpkin Pie Cinnamon Rolls – I am not at all surprised. 2 years in a row this recipe has held the number 1 spot. I don't blame you! These are super easy to make and they are beyond delicious!
#2. Strawberry Cream Cheese Pastries – AWESOME CHOICE! Those who haven't made them, yet… you really should! Again, very easy to make, yet these pastries are just incredible. Soft and flaky pastries filled with a sweet cream cheese mixture and strawberry jam. ♥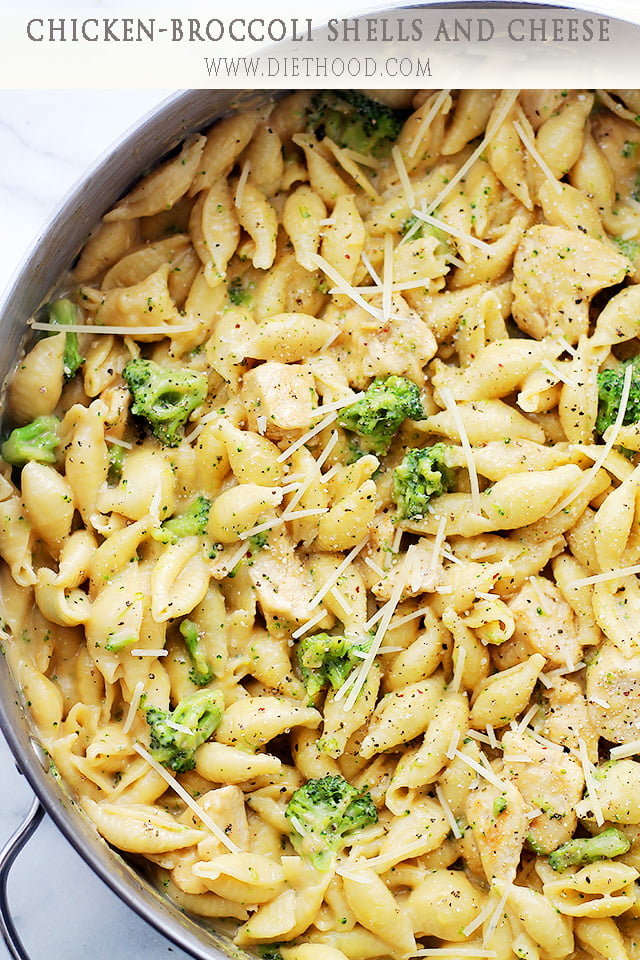 #3. Chicken Broccoli Shells and Cheese – Homemade, lightened-up shells and cheese, tossed with chicken and broccoli florets. One of my weekly go-to's!
#4. Baked Chicken with Spinach and Artichokes – Cozy, filling, delicious and healthy! With only a couple of months on Diethood, this recipe has already climbed up to the 4th spot!
#5. Garlic Yogurt Baked Chicken – Another winner, Chicken Dinner! This flavorful, delicious baked chicken is marinated in a yogurt mixture with garlic and thyme. SO! GOOD!
#6. Lemon Chicken Fettuccine – BEST STUFF! This is a fresh and easy take on dinner. Just some chicken pieces tossed with tomatoes, mushrooms, lemon juice and olive oil.
Are you noticing a pattern? Winner Winner Chicken Dinner!
When new bloggers ask me about my blog-strategy, I always kid around and say that the strategy to a successful blog is:
Stick to YOUR BEST Chicken, Pasta and Chocolate Recipes. 😀
Moving on!
#7. Apple Rings – How can you go wrong with deep-fried sliced apples tossed in cinnamon-sugar?! They are amazing!
#8. Garlicky & Cheesy Quinoa Zucchini Fritters – Packed with Quinoa and Zucchini, these Fritters are healthy, but more importantly, they are delicious!
#9. Black Magic Chocolate Cake – Everyone needs a great go-to chocolate cake. THIS one is IT! Moist, rich, and delicious!
#10. Spinach Tortellini Tomato Soup – Lastly, this hearty, delicious, quick and easy soup, packed with spinach and tortellini. A newer-to-the-blog recipe, this soup is my husband's favorite and it's always on rotation.
Th Th Th Th That's All Folks!
BUT FIRST! If we can just have a heart to heart, please? Thanks!
I always say this and I just hope that you know how much it means to me that you always come by here and make MY day! You really do!!
You allow me to do what I LOVE – talk and cook – but you also encourage me to do better, and to understand that growth comes only through continuous effort, love and work.
What you don't see is the amount of hours I spend on creating content for this blog, on testing and retesting recipes, photographing, editing, writing, BUYING GROCERIES (the produce dudes at Costco know me by my first name!), researching… Pinteresting… and the list goes on and on.
THANK YOU from the bottom of my heart and soul for supporting me and my little space on this thing called the InternetS. I ♥ YOU!
Now I'm off to take a couple days break and learn how to stop eating sweets for the rest of my life. Or a few hours.
ENJOY!